Reviews of Hitchcock Cafe
Review of Hitchcock Cafe by Classic Rock Magazine
A veteran of the music scene, Jeff Lowe has only just gotten around to releasing his debut album. But to provide a healthy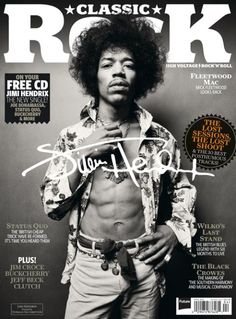 http://www.classicrockmagazine.com/news/track-of-the-day-jeff-lowe/taster for it, he provides the latest Track Of The Day. Check out all Tracks Of The Day. http://www.classicrockmagazine.com/tag/track-of-the-day
Over the years, guitarist/singer Lowe has worked with the likes of Cutting Crew, Kiki Dee, The Rocky Horror Show and Trevor Horne. But it was only this year that he finally decided to do his own thing. So, he started Heartquake Records, and has produced debut album Hitchcock Cafe.
The album reflects the ills of modern society, done in a style that brings to mind so many different, yet unique artists, such as James Taylor, Donovan, Nick Drake, Richard Thompson and Gordon Giltrap.
The album is to be released on October 25 in digital form, through iTunes and other outlets.
Review of Hitchcock Cafe by Kaje
"Hitchcock Cafe" is the new album by London born Jeff Lowe, a recording artist and session musician.  The album is diverse with a mixture of rock and soft acoustic sounds, quite obviously created by an artist who has 'lived'.  The lyrics are laced with existential themes.
The title track opens in a transport cafe telling us about past loves gone wrong. 'Public Information' is a track that examines the Big Brother society and as Lowe says "reality TV is not reality at all" The video to this track is fun to watch but, the message is clear! 'Goldilocks' has to be one of my favourite tracks with its unique sound with a twist on the original tale.'Mosaic by Nature' demonstrates Lowe's haunting voice and 'Wrong Junction' is reminiscent at times of Francis Dunnery.
Jeff Lowe has worked with Trevor Horn and Dave Bascoombe in the past. He has also written successfully for 'The Cutting Crew', 'Stoney' and more recently his niece 'Holly Jazz Lowe' with the track 'Blindfolded'.
An album well worth listening to and I look forward to seeing Mr. Lowe live!
Review of Hitchcock Cafe by N.E Johnston - Barbados
Jeff Lowe is a cross between a poet and a songwriter and a master of the catchy, delightful or soulful refrain. Whatever the nature of the refrain it's just wonderful to hear. Both Goldilocks and Wrong Junction have amazing, quirky lyrics and particularly good refrains that just pick you up and pull you into the song and along. Brilliant song writing!
Review of Hitchcock Cafe by Rhythm & Booze
Rhythm & Booze is an online music webzine created by music lovers for music lovers.
Jeff Lowe may not be a household name but there's a good chance you may have heard his work as a session musician or a songwriter for hire, in the past he's worked with everyone from The Cutting Crew to Kiki Dee. In recent times Jeff has been working with his niece Holly Jazz Lowe, forming his own record company and writing this, his debut album, Hitchcock Cafe.
The fourteen track affair, is a varied affair featuring lovely warm acoustic laments such as the title track and the string laden Travesty Of Justice, infectious rockers such as the funky and witty (yet somewhat poignant) Public Information Song, psychedelic tinged odes such as the wonderful harmony drenched Bypass The Bypass and even soul in the shape of Wrong Junction.
Highlights come thick and fast throughout the albums duration, tracks such as the stunning Suicide River, a track featuring strings, acoustic and electric guitars and bewitching vocal harmonies that simply intoxicate the listener. Another standout is the glorious poppy yet seemingly tragic couch potato anthem, Closer, an infectious look at the addictive nature of TV and how people get sucked into the lives of fictional TV heroes. Goldilocks is a delicious seven minute odd combination of progressive rock and Squeeze like pop (only with added violin), whilst the album's closer (if you don't count the bizarre hidden extra track), Where I'm Bound sees Jeff add a previously unheard country tinge to proceedings completing the album with a brilliant rootsy rocker.
Now if you're looking for an album that's new and revolutionary you're best to look elsewhere, if however you have a desire for a mature release rammed full of strong, honest and catchy songs that you can hum along to, then the work of Jeff Lowe will be right up your street.
Rhythm & Booze Rating: 8
Review of Hitchcock Cafe by Whisperin and Hollerins
Review: Lowe Jeff: Hitchcock cafe
Label: Heartquake Records
Genre: Rock/Alternative
Our Ratiing ******** 8 out of 10

London-born singer and guitarist Jeff Lowe has spent decades playing as a session musician and has worked with a variety of producers including Trevor Horn (Frankie Goes to Hollywood, Robbie Williams and Grace Jones) and Dave Bascombe (Tears for Fears). Unsurprisingly, he has been influenced by a variety of musical styles in his career and these are shown off in abundance on his new album Hitchcock Cafe. From the jazz-rock solos of the relaxed Wrong Junction through the folksy Suicide River, the stylish acoustic Travesty of Justice and the funky Real Good Gig, Hitchcock Cafe is a pot-pourri of genres in the spirit of experimentation that defines the ethos of his own Heartquake Records label operating from South Street Studios in Devon.

Lowe switches effortlessly from acoustic guitar, to slide to heavy rock intertwined with clever string and chorus arrangements.The experiments are by no means confined to the music. Lowe has written for bands like Cutting Crew and Stoney. Here he has assembled in an interesting set of songs that are full of surprises. Goldilocks, with its "Are you sitting comfortably, then I'll begin" intro is a modern-day fairy tale in which the mysterious heroine is working to keep the wolf from the door. No mention of porridge though, but we do get marmite soldiers and other every day assortments in well-perceived love songs like Travesty of Justice and Bypass the Bypass.

Theres social comment to add to the mix too, most notably on Public Information Song, a catchy and witty take on our modern surveillance society and reality television, and Closer, a parody of celebrity culture in which the protagonist is unable to get up from his sofa because his identity is woven into the television heroes he watches.Hitchcock Cafe is certainly worth a short stay on the sofa.
Review of G.E.M by Kevin Harvey
Sometimes it's good to listen to music that involves musicianship, played by someone who melds with their instrument and who excels in their art. Sometimes it's good to hear something intelligent, where the lyrics challenge you to consider a variety of issues about life. It's always good to discover originality and creativity, either within the chords, the melody, the rhythms or how all of these fit together. Sometimes it's good to rediscover emotions you might not have had for a while. Jeff Lowe's music contains all of these things.
Some of the songs are openly political, but why not, some things need to be sung about. Others tug at the heart strings. You can also find fun, energy and humour. There is musical class (the best type of class -unrelated to the social kind) – Heavy Side of Passion, if a painting, would hang in the Louvre.
Jeff Lowe is a completely genuine musician, and has been ever since as a young boy he picked up a guitar to accompany his similarly talented brother. Having worked for many years as both a session guitarist and as a songwriter with some of the biggest names in the industry Jeff has picked up a lot different influences. Originality, along with all the other essential qualities mentioned above, however, is what hits you when you encounter his own songwriting and productions. There is something for everyone in Jeff's music, and there is a hell of a lot for those who are prepared to listen carefully.
Kevin Harvey
Review of G.E.M by Ron McCreight
Over the past few years, it has been my privilege to represent Jeff & G.E.M's music in the domain of UK radio!
 In particular his two albums "The Ink Snails Tattooed Trail" & "Songs For Hestia" I consider amazing bodies of work, both featuring some fascinating, ground breaking lyrics & top draw musicianship accompanying some great vocal harmonies.
I was delighted that national radio, in the form of Radio 2 supported several of the singles taken from these albums – "Uniform Exchange", "Jump The Lights", "Do You Know" & "Train To Barnham" were all played in spite of the station's trending towards teen pop in recent years.
Throughout the promotion process I canvass many opinions from the all-powerful radio producers & DJs – these guys are incredibly opinionated but they have rarely criticised Jeff's work, drawing comparisons with 10 cc (by coincidence I have worked on Graham Gouldman's solo material through this time), Jeff Lynne's ELO & even The Beatles. Compliments indeed!
Veteran DJ Alex Lester has probably been the most loyal supporter with regular plays when he was on Radio 2 followed by interview features with Jeff on BBC Radio Oxford & multiple plays on BBC West Midlands out of Birmingham. Alex's support of Jeff's songs is praise indeed given he is a genuine music man e.g. he once took a long holiday involving a road trip across America randomly stopping over when he hit a town displaying a good gig, all of which he blogged, all of which was unpaid work.
G.E.M.'s current album, "Snowed Under Bowled Over" contains yet more captivating songs & again Jeff's superb guitar work is on display. This set is just reaching all relevant networks & with any justice you will hear songs such as "Jenga", Cruella de Vil" Kaleidoscope" & "Sleeping Ghost Of Love"
on a radio station near you soon!
Ron McCreight
Promotion man to the UK record industry for over 50 years.
06.07.2020
Review of G.E.M by Jon Levy
I was introduced to Jeff Lowe's music by a friend. I was very impressed by his musical and creative skills. I heard a wide range of musical genre from Beatle's rock to funk and his own unique styles. I heard soothing ballads, stories, and political statements. Since then his repertoire has expanded with a number of new albums under the Groove Enlightened Minstrels name. 
 A few years ago I had the opportunity to visit Jeff at his studio in Devon. He played one of his new pieces for me that he was working on at the time. I discovered that in addition to writing the music and lyrics he arranged and produced his music as well. I learned that he comes from a very musical family and is an accomplished classical and jazz musician as well. If you are looking for something new and exciting, take some time and have a listen. 
Jon Levy. Denver, Colorado, USA.
Reviews of Ink Snail's Tattooed Trail
Review of The Ink Snail's Tattooed Trail by Michael Kell Campbell
From the opening track of 'Hold that vision' you know you're in for something special with this CD. The lyrics cut straight to the heart with determination and to demand no ambiguity to the listener, but to lead you on the correct path of your own innate understanding to… hold that vision. This is set against a tight rhythm of electro trance dance funk and a groove, that encapsulates and provokes an inner spiritual feeling. It turns on a lava lamp at the back of the retina as the music takes you out of your realm and lifts you up higher and higher, and you cant help but be carried along with it.
Insulting though comparisons are to song writers, mainly on the implication of plagiarism. I cant help but state, that when you listen to this album you are reminded of the craft of song writing, and how and why music connects to people with an empathy through melody. Such as Lennon & McCartney, Costello, Difford & Tilbrook, Holland Dozzier Holland, Paddy MaCaloon, Rod Stewart, Richard Hawley and Paul Simon. Some of the greatest songsmiths of our time. If you listened to the track 'You occupy me' A tender love song that reminds us of how precious and fragile love really is. Yet, as an emotion, is essential for the human spirit, and that without it, we are somehow baron, empty, lifeless. As you get to the end of the song, the first thing that comes to mind is…why wasn't this a hit?
The CD is a double CD package. Made up of 23 tracks. Could have quite easily been divided into two separate albums, but thank God it wasn't. It calls upon all genres of music, in a heady mix of pop, rock, soul, ballads, laments, tinged with blues. Played out by incredible musicians, with choruses you could land a harrier jump jet on. Stick it all in a blender, with a sprinkling of honey soaked outrage, irony and raspberry flavoured humour, topped off with a slice of funk and hit the button and you have 'The ink snail's tattooed trail.
Michael Kell Campbell. Cadwillow Fink
https://www.facebook.com/Cadwillow-fink-381290838563061
Review of Ink Snail Tattooed trail by N.E Johnston - Barbados
Jeff Lowe's songs often deliver a double whammy, a catchy tune that makes you want to get up and dance and brilliant lyrics that make you want to learn all the words. Jump the Lights is one of the best in both respects. It should have been a hit. Maybe it still will be. In any case, it's a brilliant song and I will never tire of listening to it.
Reviews of Snowed Under Bowled Over
Review of Snowed over Bowled Under by Fiona Simes
I have been a fan of G.E.M. for years now, from Hitchcock Cafe and The Ink Snail's Tattooed Trail to Songs for Hestia and now Snowed Under Bowled Over.
Jeff Lowe writes thought provoking, humorous and heartfelt lyrics which together with fantastic musical talents speak for themselves.
If you only listen to one new album this year make it Snowed Under Bowled Over. It had me in tears with the hauntingly beautiful ' One Story Line' and lifted my spirits with 'Freeway'. G.E.M. take you on a journey from the almost prophetic 'Jenga' to 'The Heavy Side of Passion' ( with its hypnotic saxophone), the first time I heard this I was driving towards three wind turbines which were turning in time with the music, I had to stop the car, it was one of those moments!
The music of Jeff Lowe and the Groove Enlightened Minstrels seem to capture and create 'those moments' time and again in this fantastic new album.
Words are not enough – the music says it all.
Fiona Simes: Sparrow House Gallery. Isle of Harris. Outer Hebrides.